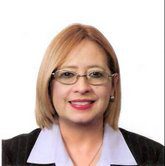 Wanda E. Soto
Profesora de universidad. Experta en hostigamiento laboral, maltrato y dinámicas y efectos. Experta en mediación en conflictos laborales. Autora de varios libros sobre estas materias, divulgadora del fenómeno mobbing.
Educational Background
Ed.D Doctor in Education administration and Supervision
University of Puerto Rico – Graduation Date: 2001
Master's degree – Master of Arts in Education
Administration and Supervision, Interamerican University
Graduation Date: 1989
Bachelor's Degree – Bachelor of Arts in Education
Major – Spanish secondary school and General, University of P.R.
Science Secondary school – Graduation Date: 1982
Awards and Supplemental Training
1985 Merit Certificate Excellence Performance Teaching Spanish
Bank Institute – Rio Piedras Puerto Rico
1989 Certificate in Administration and Supervision
InterAmerican University- San Juan. G.P.A. 3.57
1989 Agencia Española de Cooperación Internacional
Cooperación Iberoamericana- VI Curso para Profesores de Origen Hispano
1990-91 Fulbright Exchange Program in Ramapo college New Jersey
with the University of Puerto Rico – 1year
1992 Metropolitan University of Puerto Rico
Conference on Motivation
1993 Award for the Participation in Scientific Areas Research
Rio Piedras High School
1994Leadership Programs in Summer for special students with
learning Class problems
1995 Congress of Science Teachers in the Caribe Hilton Hotel
1996 Centro de Estudios Especializados para Directores de Escuela
Jornada especial de Adiestramiento Gerencial
Recinto de Río Piedras UPR.
1997 School Directors Convention with National School Services.
Congress of Sexual Harassment, Sexual Assault and Violence to woman
Orlando, Florida
1998 Intership Program for doctoral Students Higher Education Research Project
Graduate Program Center
Woman Leadership Institute of New Jersey
Rutgers university – 1 year
Mentorship Program with school to Work for High School Students
2000 Simposio Universidad de Puerto Rico
Facultad de Educacion
Actitudes Comunidades Escolares al Hostigamiento Sexual
2001 Doctoral dissertation, University of P.R.
Graduate Program Educational Faculty
Actitudes de un Sector de la Comunidad Escolar de la Región de San Juan; Modelo para un diseño de una Guía Educativa
2002-Congreso Internacional de la Salud
Caribe Hilton
Simposio PRO SEX
Universidad de Puerto Rico
Recinto de Cayey
2003 Encuentro de la Mujer Latina de las América
Ponencia: "Manejo de Crisis ante el Acoso Moral de la Mujer"
VII Congreso Puertorriqueño de Investigación en la Educación
Ponencia: "Centro de Apoyo y Desarrollo Gerencial para el Manejo de Crísis y Solución de Conflictos"
Encuentro para el Desarrollo de Destrezas de Pensamiento
Ponencia: "Modelo Tridimensional dirigido a Directores en el Manejo de
Crisis y Solución de Conflictos en sus Comunidades Escolares"
Primer Congreso Virtual sobre Aprendizaje con Tecnología
Ponencia: "Modelo Tridimensional en la Solución de Conflictos contra el
Acoso Moral y Sexual"
Agenda para la Calidad de Vida en Puerto Rico y Fundación de Operación
Solidaridad
Participación en Mesas Redondas y Trabajos sobre Iniciativas Puntuales
Para la Mejora de la Calidad de Vida en Puerto Rico
2004- Presentation of law To Stop Mobbing harassment in the Workplace. Government of P.R.
Presentation of Chronical diseases in the workplaces: Post traumatic Syndrome Stress disorders" Caribe Hilton Hotel – International Medical Congress
2004- Presentation in Ritz Carlton Hotel "Effect of Mobbing or Moral Harassment in the workplaces". Convention of Professional people in San Juan, P.R.
2004- Presentation of the Center to Support Principal of Schools and solve conflicts in their communities: Toluca, Mexico- International Congress of Mediation and Conflicts Resolution
2005- Barcelona, Spain Congreso in Villanova de la Geltrú. Effect of Mobbing Harassment in publics and private companies in Puerto Rico. May 2 to
May 7.
2005- Inter American University. Unesco- Study of Mobbing: Violence in the workplaces in P.R. Law Senator Project 2901.
2005- Oral Dissertation in the Forum or Symposium about Moral Harassment in the workplaces – Oct 29 University of Puerto Rico
2006- Oral Dissertation in the Forum of Teachers Association of P.R. in the University of Puerto Rico Toward Human Rights in Moral Harassment
2006- Public affairs Forum in San Juan Capitol of P.R. for the defense of Project 1008 of Mobbing of Moral harassment – Feb 10.
2006- Promotion and Publication in the University of Puerto Rico of my First Book: Mobbing or Moral Harassment Chronychal and Diahrohnycal Research, articles and reflection of the subject- Dec 06
2006- Summer- Participation in Fellowship Program Pilar Barbosa in Washington DC.
Job History
2005-present- Continue Education Professor of Mobbing and Stop Workplaces Violence in the job. University of Puerto Rico
Innovative Proposal Research toward Promotion of Health in the Workplaces
2005-to present Director of School Emilio Huyke Secondary School
2002-to 2005 Project Research Consultant for the Crisis Management and Conflict Resolution Center for School Directors. Educational District of San Juan, PR
Department of Education
Introduction of New Programs of Mediation, Negotiation and Conflict Resolution on School Violence
2004- Summer- Phoenix University- Spanish professor to bachelor students
1992-2002 Director of Rio Piedras High School, Grade 7-12
750 students – 50 teachers and other classified employees
1990-1991 Ramapo College of New Jersey
Spanish professor for Multiracial Students
1991-1990 Rio Piedras High School – General Science Teacher
1990-1989 Corretjer Secondary School – General Science Teacher
1988-1989 Science Program Rio Piedras IV District Coordinator
1987-1988 Sarriera High School – Physics and Chemistry Teacher
1985-1988 Einstein High School- Biology Teacher
1984-1986 Bilingual High School Santurce – General Science Teacher
1983-1994 Bank Institute San Juan – Spanish Teacher – Post secondary Students
1983-1984 Nuestra Señora Del Rosario – Christian College – General Science and Spanish Professor
1979-1981 Santa Monica Christian College – General Science and Biology Teacher
1979-1981 Labra High School – General Science Teacher
Career Professional Goals
1. Training Program for teachers and Hispanic students – The purpose is to do a research about all the problems appearing in school communities
2. Research on sexual harassment, moral harassment and other subjects affecting and representing woman issues.
3. Publication of the First New Books in Puerto Rico of Mobbing or Moral Harassments – Research, Articles and reflection -April 2006
4. Publication of my Second Book – Attitude of School Communities to Sexual Harassment in School. Summer 2006
5. Publication of a second Book: Sexual Harassment in School Teachers' Guide.Summer 2007
6. Publication of the Presentation of the Dissertation performed at the International Latino Woman's Congress in San Juan.
7. Title – Sociocultural Backgrounds of Latin-American women to sexual harassment in their jobs. Legal and psychological implications to our society.
8. Contribution to the International White Book on the Latino Woman
9. Articles and Research Studies about Moral Harassment
10. Curses, training and so many Models of Classes in the University of P.R.
11. First Book of Mobbing in Puerto Rico
Affiliations
Association of Professors in San Juan
Association of Science Teachers
Leadership Institute of New Jersey
Association of Graduate Students UPR.
Latin-American Congress in P.A.
Organización Mujeres Emprendedoras- SPAIN
El Sol Educacional Magazines
Leadership and Supervision Magazine
Other
Special Skills and Abilities
Computers literacy
Proposal Writing
Research Project Design
New Program Coordination and Planning
Leadership
Oral Presentations
Others related to human resource management
Languages
Spanish. Native
English. Fluent
References
Director od Decep – Professor Carlos Rosado-764-0025
Dr. Heriberto Crespo – Industrial Psychology Professor. Tel. 787-767-4997
Dra. Lourdes Soto de Laurido – Chairperson Medical Center UPR
Dra. Vanessa Bird – Graduate Program Decanal Inter American University ,in San Juan- School of Education
Palma, 14 de julio de 2007.